Page path:
We welcome two new employees: Vita and Vito
We welcome two new employees: Vita and Vito
Cars are friends. For many of us. That's why it's hard to say goodbye when the time has come. Our two VW buses have been with us for many years and we have gone through many adventures and expeditions together. Now they are old and no longer up to date, including safety standards. Therefore, they unfortunately had to leave the institute. At the same time, however, when one door closes, another door opens. In practice, that means: airbags, navigation system, air conditioning and all kinds of other comfort. And compliance with the Euro 6 exhaust emission standard. We welcome our new members to the team: Vita and Vito, two brand new, identical Mercedes buses. Be nice to them! They are a bit smaller than their predecessors, but they can't help it.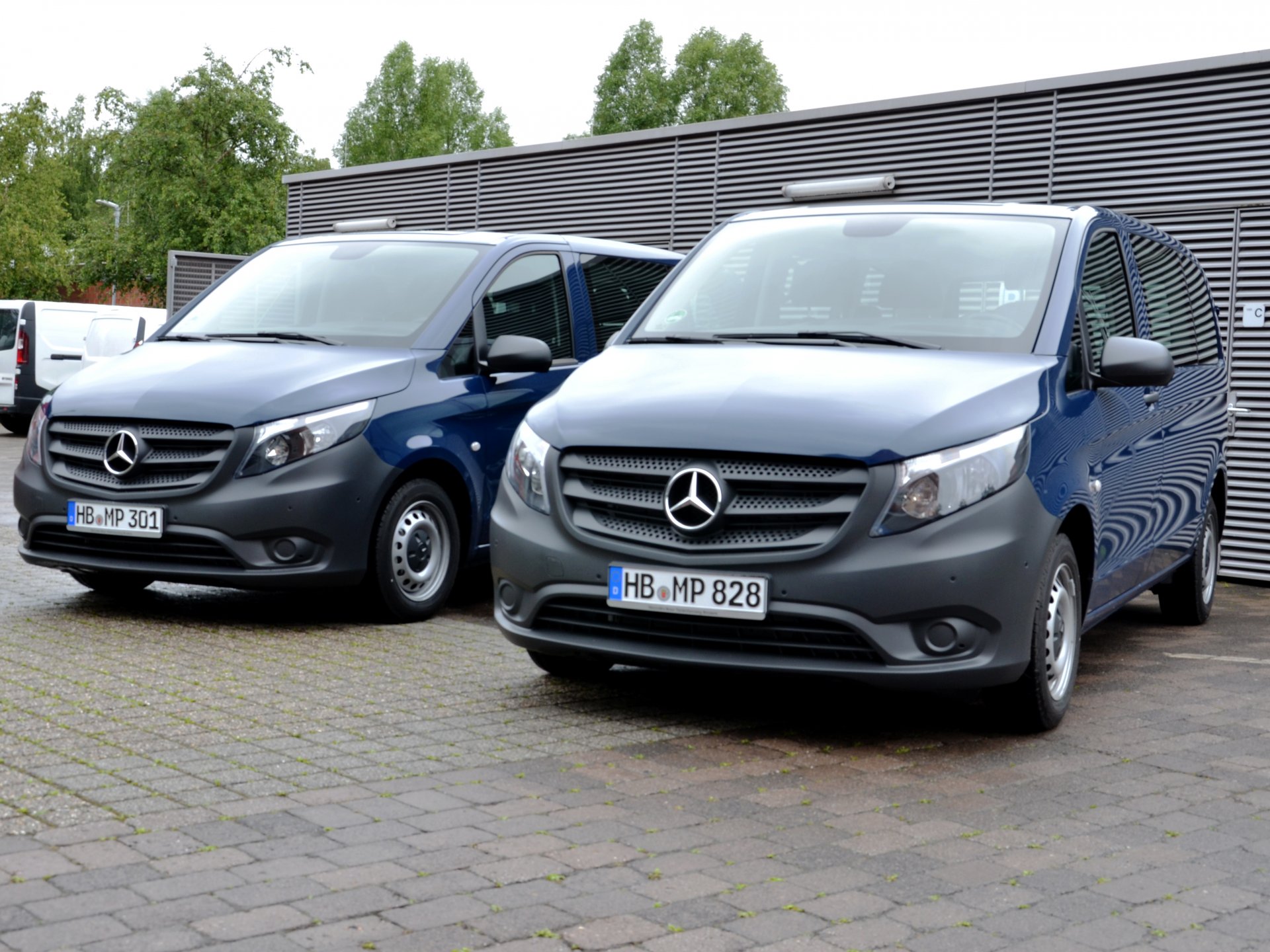 At least, they are just as blue as their predecessors. While the colour hasn't changed, the more so has the interior and the equipment. They have heat-insulating glass all around, airbags in the front and on the sides as well as on the window of the driver and front passenger. A built-in navigation system shows the way, a parking assistant helps when manoeuvring, the Collision Prevention Assist warns the driver of insufficient distance to vehicles in front, stationary pedestrians or obstacles, and cruise control can ensure constant speed. The car is also digitally up-to-date and has a communication module with LTE and Bluetooth. In addition, the steering wheel is height-adjustable and not only controls the car, but also offers the possibility to operate many of the car's functions. For example, the volume of the navigation system.
Furthermore, Vita and Vito have air conditioning, remote-controllable central locking, a 6-speed manual gearbox, tyre pressure monitoring and the Eco start/stop function. So don't be surprised if the engine dies off at the red traffic lights. It'll start up again as soon as you start driving.
A drop of bitterness: The loading area is slightly smaller than that of the VW buses. But after the installation of aluminum floors it is now well usable. Also, the permissible total weight of 3100 kilograms is even higher than that of the old VW buses. The number of seats (nine) has remained the same. Unfortunately, when the bus is fully occupied, it is not possible to carry large luggage for all passengers. But in times of Corona we can't use the full occupancy anyway.
Not convinced yet? Just give it a try. We wish everyone a good trip!
Please dir­ect your quer­ies to:
MPI for Marine Microbiology
Celsiusstr. 1
D-28359 Bremen
Germany