Dr. Benedikt Geier
Die Inhalte dieser Seite sind leider nicht auf Deutsch verfügbar.
MPI for Marine Microbiology
Celsiusstr. 1
D-28359 Bremen
Germany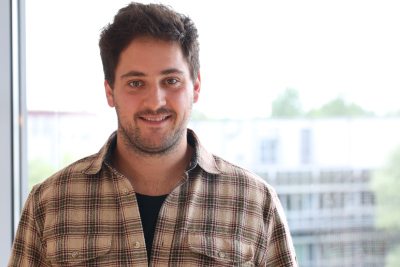 Hello,

I am interested in developing and applying correlative imaging approaches to disentangle the symbiotic interactions between microbes and small symbiotic animals in situ. Thereby, I focus on the integration of metabolite imaging with MALDI-MSI and imaging of the physical association of both partners using FISH and microCT.
MALDI-MSI: Matrix-assisted laser desorption/ionization mass spectrometry imaging
FISH: Fluorescence in situ hybridization for partner-specific labeling
microCT: Micro-computed X-ray tomography for high-resolution microanatomy of the host tissues


Techniques:
High-resolution MALDI-MSI sample preparation, imaging and integration with other microscopy techniques
FISH and fluorescence microscopy (CLSM, Airyscan)
Histology in combination with serial approaches for 3D reconstruction
MicroCT approaches, laboratory-based and synchrotron radiation-based (e.g. phase contrast)
3D visualization including image alignment, filtering, surface reconstruction, 3D video animations and co-registration of different imaging datasets within 3D space.

Organisms:
Deep-sea mussels of the genus Bathymodiolus including their chemosynthetic methane- and sulfur-oxidizing symbionts
Common garden earthworms


Collaborations:
Dr. Bernhard Ruthensteiner, Bavarian State Collection of Zoology (ZSM, Munich)
Dr. Jörg Hammel, Helmholtz-Center Geesthacht (HZG) outstation at Deutsches Elektronen Synchrotron (DESY, Hamburg)
Dr. Maxim Polikarpov, European Molecular Biology Laboratory (EMBL, Hamburg Unit at the DESY)
Dr. Janina Oetjen, MALDI Imaging Lab, University of Bremen/Bruker Daltonics
Assoc. Prof. Christian Gruber and Dr. Esther Gill Mansilla, Center for Physiology and Pharmacology, Medical University of Vienna